Hi there, I'm new to phpList and having difficulties sending out my first campaign.
Using phpList 3.4.9 on cPanel - with no command line access.
I have a small subscriber list of 1512. I worked through the "Send a campaign" options and processed the queue. This sent 247 emails fine and then I hit the sending limit of my hosting solution with an email message from the mail server daemon "Domain has exceeded the max emails per hour (249/200 (124%)) allowed. Message will be reattempted later."
I've now edited config_extended.php to try and limit the sending rate like this:
define('MAILQUEUE_BATCH_SIZE', 180);
define('MAILQUEUE_BATCH_PERIOD', 3600);
define('MAILQUEUE_THROTTLE', 10);
The campaign is still sitting in the system and I'm trying to complete sending the remain emails. When I try to process the queue again I see:
Started
Processing has started,
One campaign to process.
Please leave this window open. phpList will process your queue until all messages have been sent. This may take a while
Report of processing will be sent by email
Processing campaign 13
Looking for subscribers
Found them: 1266 to process
Sending in batches of 1 emails
Which sits there in the web browser for hours with no change. If I go back and view the campaign I see: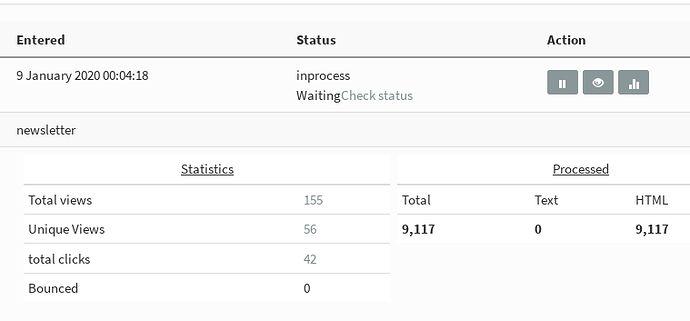 This concerns me because of the Processed Total of 9,117 - it seems that every time I try to process the queue it creates more duplicate emails to send but doesn't send them.
I've tried using the phpList.com mail processing service rather than just leaving a browser window open but it doesn't seem to be able to connect.
I've also looked at cPanel Email > Track Delivery but the emails don't seem to be even getting that far at this point.
Would I be better off to just suspend this campaign and start over?
Thanks for any suggestions!