I want to send a couple of test emails to a private list. In the dialogue box for selecting lists, the screen has conflicting information, and I'm trying to figure out how to send to just the one specific list.
For Example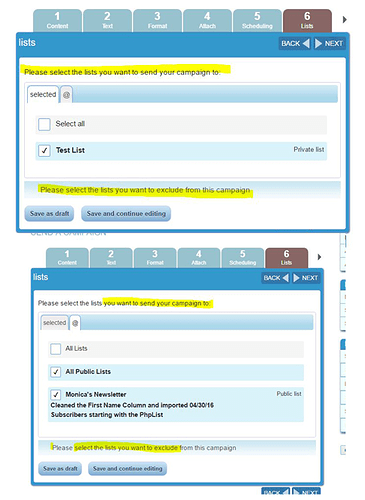 In the first dialogue box, I have the choice to select all (I'm assuming this means ALL LISTS) or my test list.
However, when I click the @ symbol tab, I have more lists to check or not check. My issue is with the wording on the boxes.
Note the text at the top and bottom of both boxes that state
select the lists you want to send your campaign to.…*
Please select the lists you want to exclude from this campaign.
In the top graphic, I've selected Test List as the list I want to send too. On the @ symbol tab, I've selected All public lists and my public newsletter list. Is the order of selection here correct?
I reviewed the online documentation, but it didn't mention the conflicting statements, and in the documentation doesn't reflect the @symbol tab either.
If someone could clarify which way to go, I'd appreciate it.
Thanks, Monica