Hi. I am new to phplist. Hoping someone can help me. I am not a coder.
The Background - I installed it to my Hostgator-hosted web server. I started by trying to send a campaign via the web GUI at https://<my_domain_name>.com/phplist_installation/admin using just my web browser. After a while I refreshed my web browser screen & found that I had been logged out of the above GUI. After checking logs It seemed that my browser had timed out and the processing of the campaign had stopped, with only a few of the email address in my list having been sent the mailing. After doing some web research, it seems this is a common known issue, and found phpList's queue processing service" (Remote Processing) as a promising solution
I use the Scheduling page (Step 3 of the GUI's Send a Campaign "Wizard" process) to set a time in advance (6am my time) for my campaign to start and also a "Stop sending after" deadline (11am my time) (my web host only allows email campaigns during their server off-peak hours).
The Problem - Even using the above "queue processing service" only a small proportion of my mailing list gets sent the mailing (before it stops due to the "Stop sending after" deadline I set, to keep to the above off-peak hours restrictions at my web host)
My Question - How can I get the same mailing out to the rest of the subscribers on my list the next day, keeping to the same "sending time window" ?
As I understand it, manually clicking the "Requeue" button that is next the the name of my campaign in the list of "Sent" campaigns (see screenshot) might simply start the process immediately and have no "Stop sending after" time (and also I don't want to have to get up at 6am the next day to press it (to keep within my web host's time restrictions))!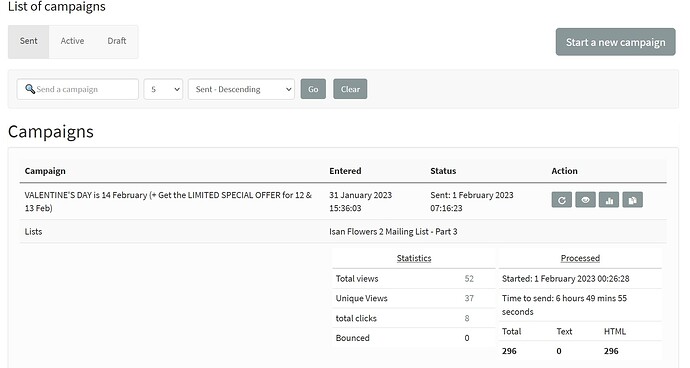 For example, is there a way I could pre-set (in advance) the "queue processing service" to start the processing again at 6am (and "Stop sending after" 11am) the next day?