Hello All,
I have had some issues sending mail using PHPList 3.3.2.
There are 500 subscribers to the newsletter and i seem to be hitting the max 5 emails per domain in any 80 seconds.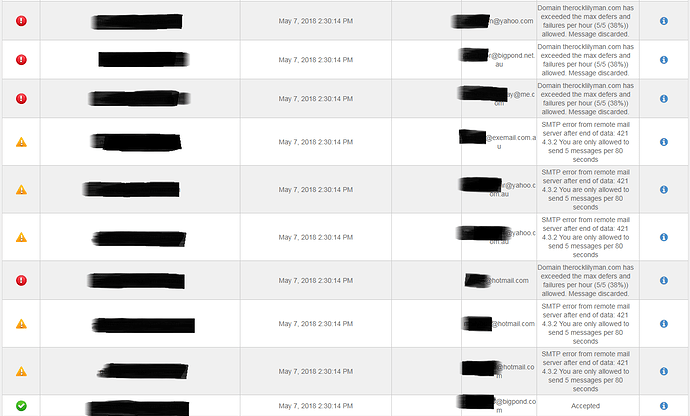 I have added the below to the config file to prevent this from occurring, however it s not having the desired effect.
define('MAX_PROCESS_MESSAGE', 10);
define('MAILQUEUE_BATCH_SIZE', 0);
define('MAILQUEUE_BATCH_PERIOD', 3600);
define('MAILQUEUE_THROTTLE', 1);
define('MAILQUEUE_AUTOTHROTTLE', 0);
define('USE_DOMAIN_THROTTLE', 1);
define('DOMAIN_BATCH_SIZE', 3);
define('DOMAIN_BATCH_PERIOD', 100);
define('DOMAIN_AUTO_THROTTLE', 1);
define('MAX_PROCESSQUEUE_TIME', 0);
If anyone has any ideas where i am going wrong i would love to hear from you.
Andrew.