I am sending list of campaigns with "n" number of subscribers, while sending the campaign at the same time, the start time are little bit difference for each campaign, but the end time are same time.
What will be the processing method of PHPLIST to send campaign, it will send one by one in queue or it will send all the campaigns at same time.
See the below screenshot for your reference.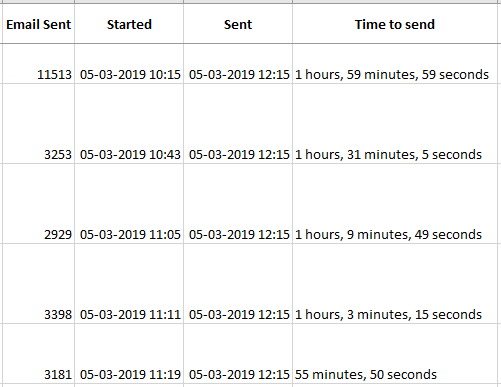 10 user sending a campaign to list of subscribers, in each list there are 10000 subscribers, so overall 10 * 10000 = 100000 mails we are sending at the time. As per PHPLIST, it takes 100 mails / per minute approximate (in my PHPLIST 80 to 90 mails / per minute), according to that to sent 100000 mail it will take more than 16 Hours, but i want it to be sent this 100000 mail by 1 or 2 hours, how to tweak this?
Below i give our way of processing method for your reference.