Hello guys.
i setup phplist, latest version v3.6.8 on my VPS server, using PHP 8.0.
I connected a brand new database to it with full access on the same server. Setup the database parameters in the config.php file, and then initialized the database as per the setup instructions.
The rest of the software is in vanilla state as it comes zipped from the phplist .org download page.
I am constantly getting this error message when i try to add new test subscribers.
These are the steps i am making:
from the search subscriber page
Add Subscriber button
Type new email address > continue
Edit subscriber profile > (set subscriber confirmed to 1) > click save changes
Click the "Lists" tab > Check Newsletter and Test checkboxes > Click save changes
Get error message "Error: Invalid security token, please reload the page and try again"
If i log out, and log back in, i try to add a new subscriber, i already added 8 test emails. The error message pops inconsistently, meaning sometimes i can add a new email and do not get the error.
But i also noticed another problem:
When i open the search subscibers page, i see for example 6 emails instead of the 8 i added, and clicking the find a subscriber "go" button, makes the missing ones show up.
I just tested login out and back in, and i see the 8 emails on the list.
I am testing on 2 different web browsers, and incognito windows, disabling the ad blocking extensions, and the cache on the server is setup to the minimum 2 seconds available option in cPanel.
I also have a new account on phplist.com and i am replicating the exact same steps, and everything works normally there without any error messages using the same web browsers, so the problem must be something in the setup itself or anything i haven't configured yet?
Screenshots: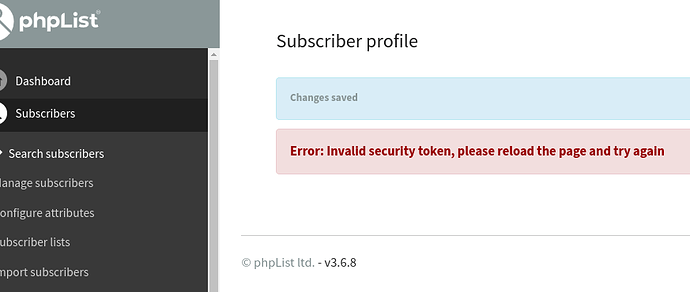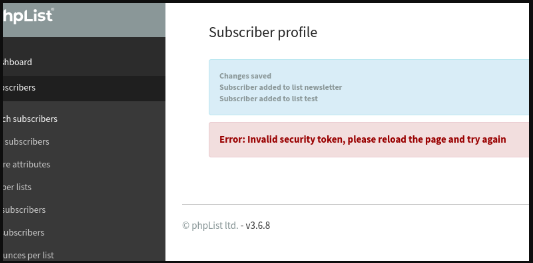 Thanks for any tips